LIVE ONLINE EVENTS
Join us for live breath journeys, guided meditations, yoga, kundalini, women's circles, musical sharings and more. Let's raise the vibration of the collective consciousness!
upcoming events
We are so excited to begin this journey of connecting online. Due to the current global "system upgrade" that we are going through, we've adapted to serve you through our online offerings! We are sharing weekly events including live breath-work sessions, guided meditations, yoga, kundalini and musical sharing. We would love for you to join us as we virtually connect, beyond distance, borders and pandemics. We can nourish our spirit beyond time and space, through a deep breath and a sincere intention. There is no excuse to not awaken to your fullest potential. See you in the 5D!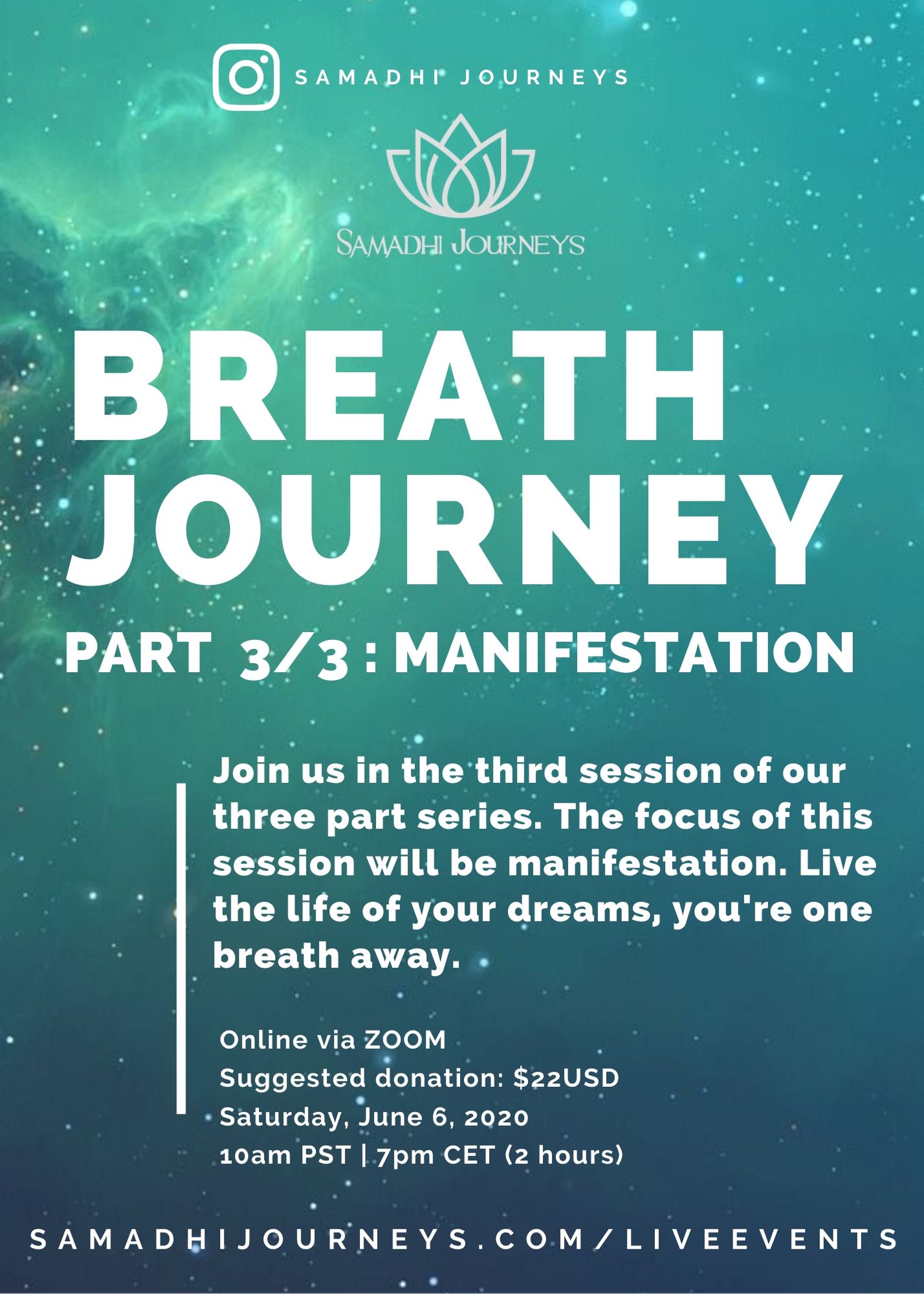 Breath Journey Part 3/3 MANIFESTATION
Saturday, June 6 at 10am PST | 7pm CET (2 hours)
Join us via Zoom, link given upon registration

To finish up our breath series we will dive deep into the topic of Manifestation and Living the life of our dreams.  What if everything you ever wished for and dreamed about was just one breath away? Our thoughts, feelings and emotions make up the blueprint of our experience of life. If we can create a clear vision of our future we can imagine it, think it, feel it and eventually feel the emotions associated with Living your Dreams. Science tells us that there is no difference between experiencing an event and simply feeling the emotions as if the event had already happened. In this last session of our series, you will be guided through a meditation and breath to help you craft the vision of your future.  It is time to "Live Your Dream".

Energy Exchange: $22 USD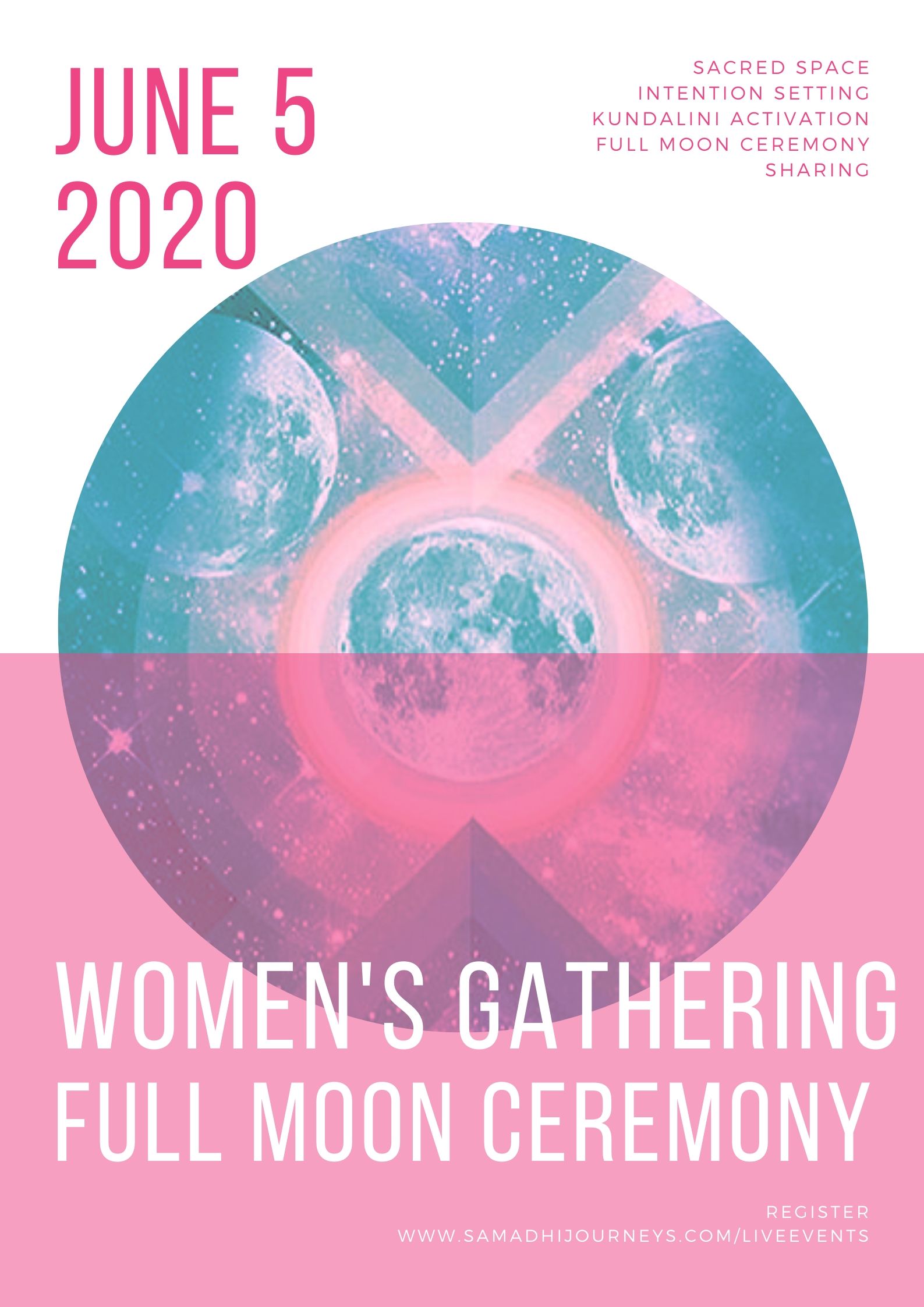 Friday, June 5 at 10am PST | 7pm CET (2 hours)
Join us via Zoom, link given upon registration

Let's gather online and drop into the sacred space of our hearts together. Let's celebrate the fullness of this lunar cycle and listen to her messages. So much is happening in the collective consciousness right now and we are being asked to stay centred, stay in our hearts, calm, listening for our heart wisdom, and sharing the inspirations as they flow through us. Let's remember this knowing together, activate ourselves with the support of the Kundalini technology and move into a healing sharing circle. Now, more than ever we have to support each other. Reminding one another of our infinite brilliance!

FREE or by Donation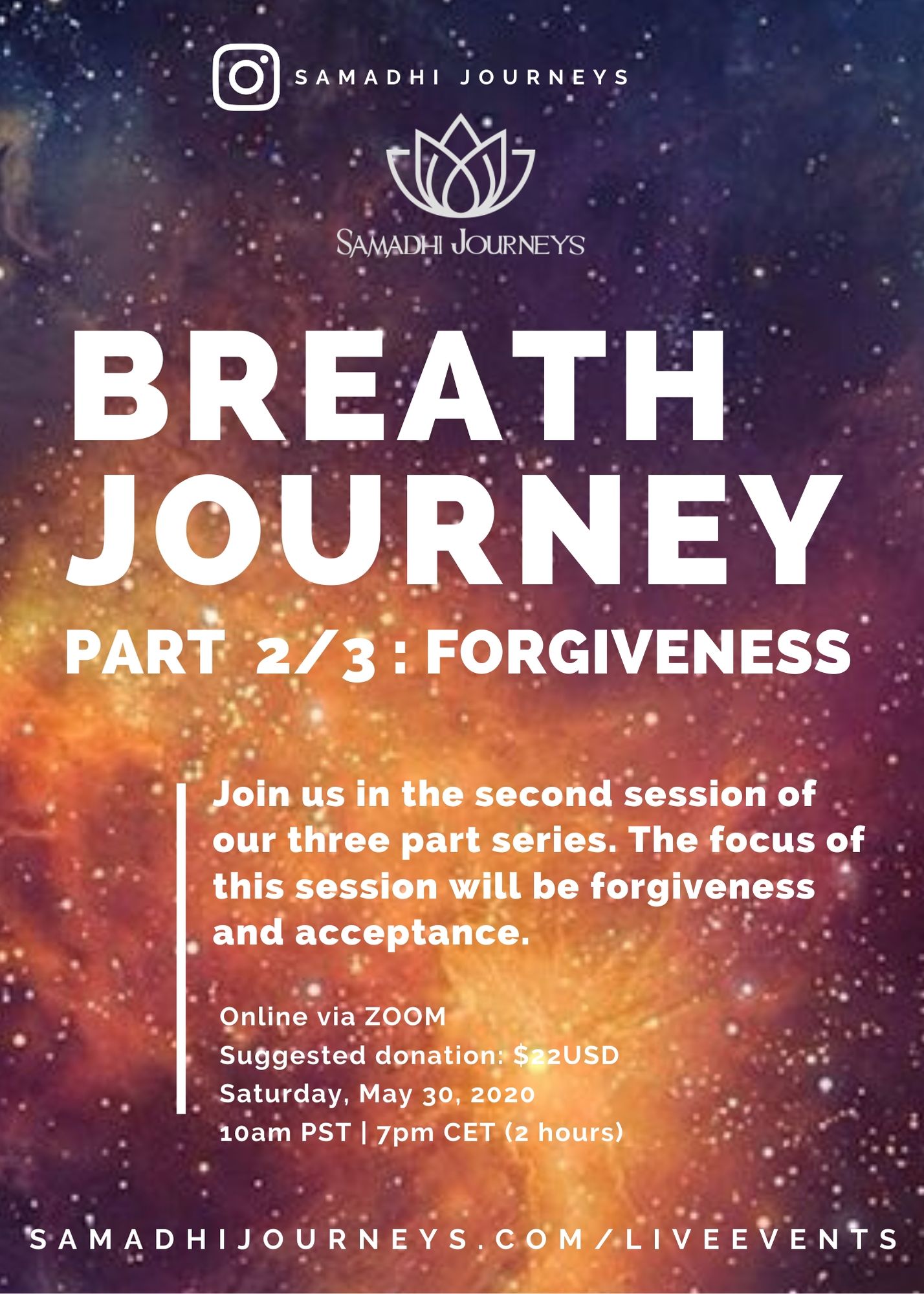 Breath Journey Part 2/3 forgiveness
Saturday, May 30 at 10am PST | 7pm CET (2 hours)
Join us via Zoom, link given upon registration

Forgiveness of self and others has the power to bring us back into alignment with our truest selves. By forgiving we are vibrationally neutralizing the consequences of negative actions of the past or current beliefs.

As we step into this new AGE of 5D, we don't have time or energy to waste on holding grudges. It's time to rise above and see the circumstances with the lens of compassion and empathy. When we breathe in DEEPLY and surrender into the process of the breath journey, we move from our limited perspective to one of understanding. It's time to forgive. 

It's time to forgive those who seemingly did wrong and understand that they were only doing their best. It's time to forgive yourself; we all deserve to live without guilt or shame. It's time to vibrationally realign ourselves so we can vibrate with the rhythm of the cosmos and call in harmony, grace, synchronicity, love and abundance into our lives. 

We will be using the ancient technology of breath to access deeper layers of the subconscious. Throughout this two hour journey, you will be guided to fully embrace unconditional forgiveness, remember your true self, and inner strength. When we forgive ourselves and others we move into acceptance, honouring and celebrating who we truly are. 

Energy Exchange: $22 USD OR $40 USD for PART 2 and 3 of the series.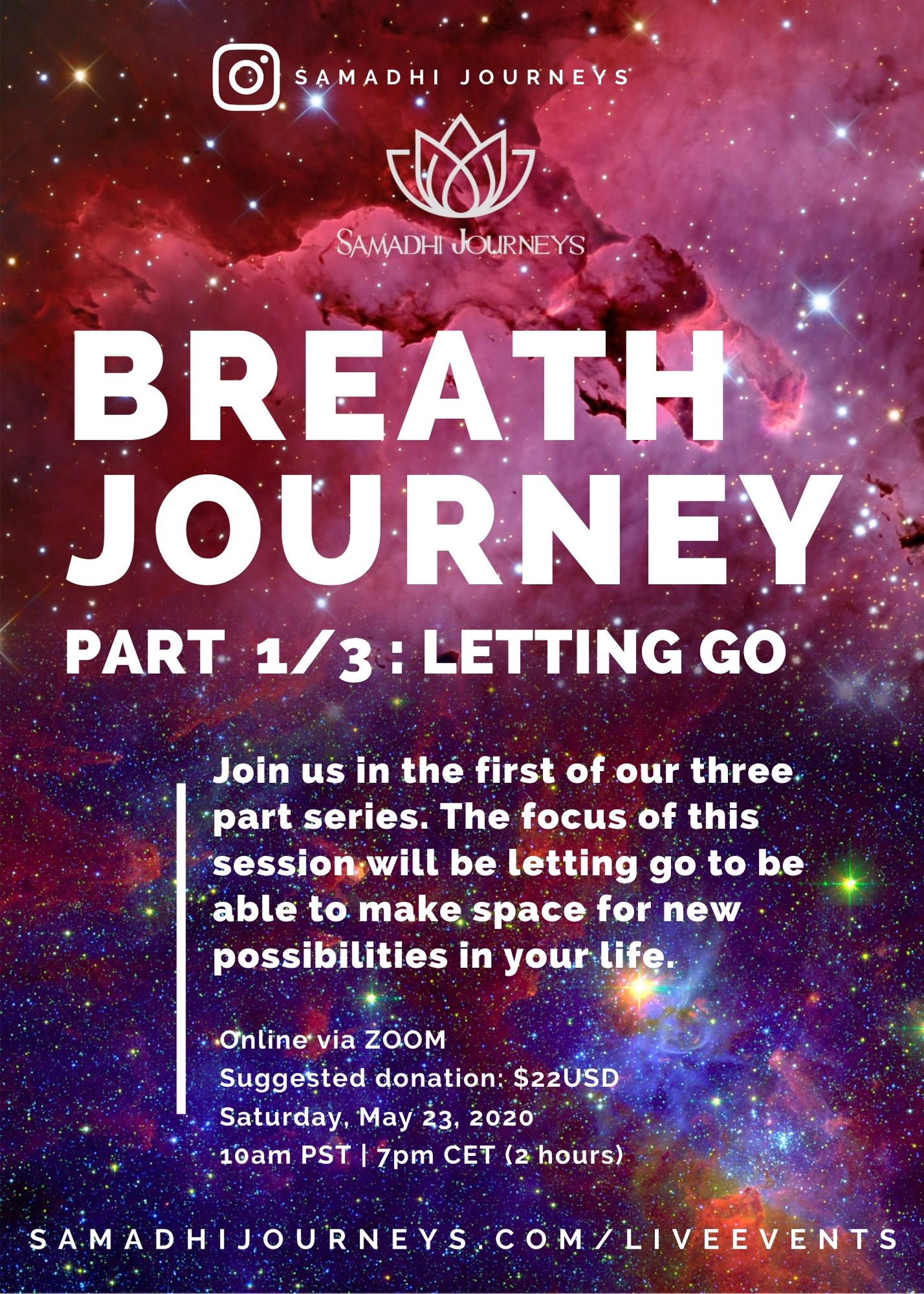 Breath Journey Part 1/3 Letting Go
Honoring the sacred through prayer, breath and music
Saturday, May 23 at 10am PST | 7pm CET (2 hours)
Join us via Zoom, link given upon registration
Feeling overwhelmed by emotions and thought patterns? Ready to shed everything that no longer resonates with who you are and are becoming? Ready to make space for the abundance that life has in store for you?

When we observe nature, we are able to see that colours come and go, leaves will fall, and the river will keep flowing. This inherent intelligence found within all nature also lives within us. A Pranayama (breath) practice is a powerful and useful tool to connect with our inner wisdom. It allows us to let go of the demands of the mind and brings us into a state of presence, opening a portal into the wisdom within. 

Join us in the first of our three-part Evolve Breath Series, 

themed: 

LETTING GO

. The focus of this session is to connect with your highest self, deeply surrender and let go of everything that no longer serves you to make space for new possibilities in your life. We will be using the ancient technology of breath to access deeper layers of the subconscious. Throughout this journey, you will be guided to release and let go of old, 

stagnated energies

, 

emotions 

and 

belief systems

 that no longer serve you.

Energy Exchange: $22 USD OR $55 USD for three-part series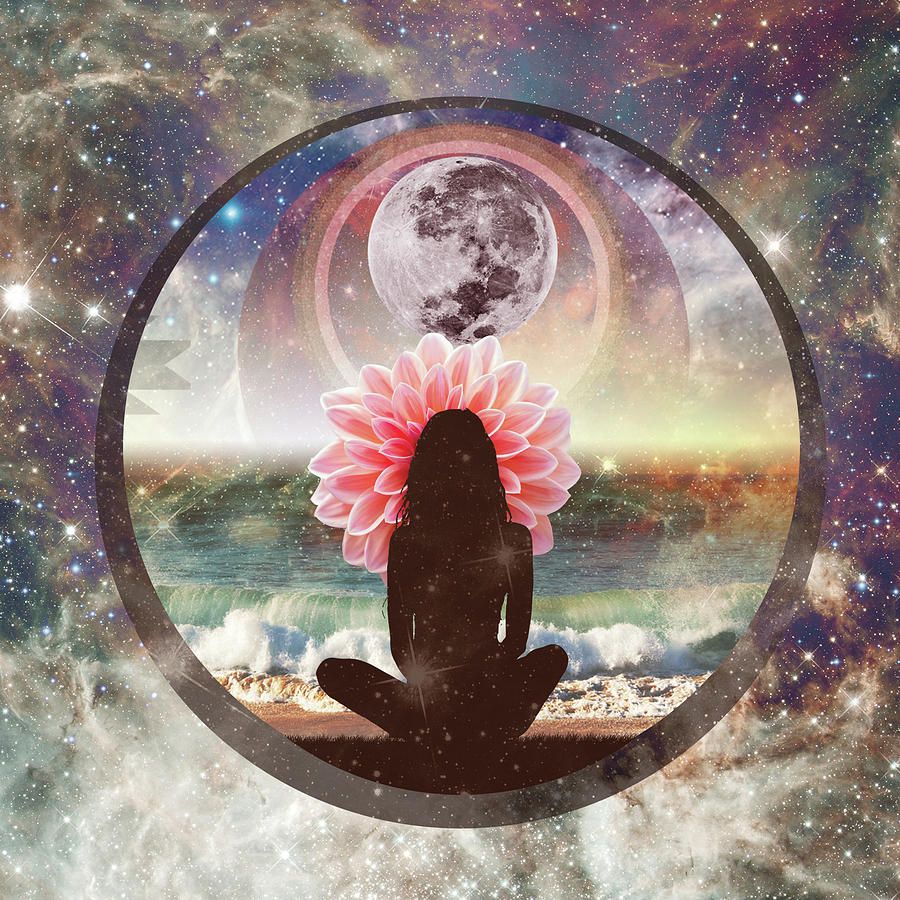 Women's Magical Sharing Circle
Honoring the sacred through prayer, breath and music
Saturday, May 16 at 10am PST | 7pm CET (2 hours)
Join us via Zoom, link given upon registration

Opening this space for women to come together on this magical 16th of May, 2020. We will be moving through some exercises to get into our bodies, to open the gates to our hearts and instill deep presence. We'll be initiating the opening of a sacred portal into our HEART, into the seat of our infinite wisdom through meditation, mantra, movement and sharing. Tuning into our intuition and feeling what next steps await us.

Cost: $20 USD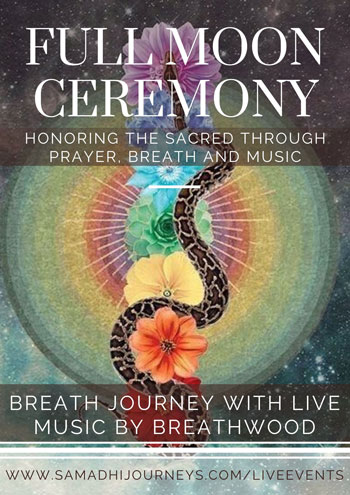 Full Moon Ceremony
Honoring the sacred through prayer, breath and music
Thursday, May 7 at 11am PST | 8pm CET (2.5 hours)
Join us via Zoom, link given upon registration
Join us in a two and a half hour journey! We're joining in Sacred Ceremony as we honour the rise of the full moon. Let's come into resonance with the Earth and all the planetary forces supporting this expansive moment in time. The ceremony will start with

 

Bianca Kempe giving a moon reading, including an exploration of the moon's position amongst the heavens and how we can harness the electric and magnetic powers to support us in our own lives. We will then be guided in a meditation to set our intentions for this new cycle.

Once our intention and vision are clear, we will dive deep into a guided Breath Journey by Master Wim Hoff instructor and breathwork Facilitator

 

Jose Reynoso with live music from our friend and music ninja

 

Breathwood

 

that will allow your intention and vision to be integrated. 

We will finish with a sharing and a guided exercise to bring this experience into life. To make the mystical real.

To harness the magic into our everyday lives.
Cost: $22 USD
Breath Journey with Live Music
Wednesday, April 29 at 11am PST | 8pm CET
Join us via Zoom, link given upon registration
Samadhi Journeys and Breathwood

are coming together to host an unforgettable 90 minute "Breath Journey" live on Zoom. Join "Master Wim Hof Instructor" Jose Reynoso and Bianca in a live breath-work session where they will cover the benefits of daily breath-work and guide you on a deep shamanic breath journey. We will be accompanied by sound ninja David Yates, his live instrumentation includes the didgeridoo, handpan, native flute, fujara, kalimba, gong, mouth harp, and more!

Suggested donation $15 USD